4.1m Jet Dinghy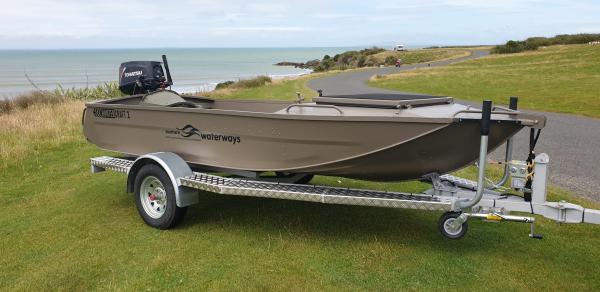 Introducing Huntercraft 1, Southern Waterways latest addition to the fleet, this is an ultra-light weight jet outboard dinghy custom built specifically for working in the shallows, lowland lakes, estuaries, and drainage ditches up to mid catchment rivers with light shingle gravel.
Length - 4.1m, MNZ Surveyed for 4 crew / 1 crew 3 passengers (in a working situation ideally 2 -3 people max).
Jet Outboard - Jet tunnel providing the ultimate in shallow water, operating in a minimum of 60mm depth planing and 250mm on tilt at idle speed (load depending). Perfect in working around the edges of lakes or rivers.
Alternative Motor Configurations - 30hp propeller for weedy conditions or load lifting and super light 3.5hp propeller drive when minimum weight is required.
Flotation - Rated for 4 people, internal foam filled sides for safety.
Light Weight - 2.5m alloy hull easily dragged or winched to worksites or launched down steep banks in areas without ramp access.
Dry Storage - Safe and dry storage for personal gear and any specialized equipment leaving the work area of the boat uncluttered. Large hatch can be removed for work such as bridge inspections or similar.

Rear Steps - For easy access on survey work when you are in and out of the boat all day.